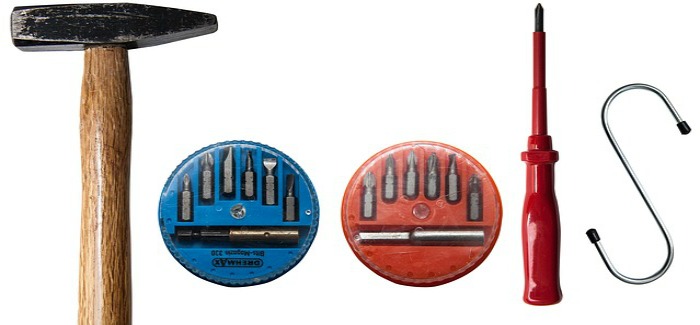 Here is a list of some of the products and resources that I personally use in my daily life.
It's sort of like peeking over my shoulder or snooping around my house to see how I do what I do.
Check these out if you're interested and think they could be beneficial additions to your own life. By the way, I saved the most important one for last.
Honest disclosure: Some of these links are affiliate links, which means that at no additional cost to you, I may receive a small commission from the seller. In other words, by using these links, you can not only find your way to some great things that I personally use and recommend, but you can also help support this site. For which I want to say… THANK YOU!
Things I Use To Create This Blog/Website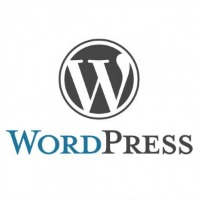 • WordPress: It's completely free, open source software that is incredibly popular for building countless blogs and websites, both large and small. Practically everyone uses it. You can teach yourself how it works by reading numerous free online tutorials spread around the web, but I decided to cut through all that hit-and-miss deluge by simply reading a great, concise book on the subject: WordPress: The Missing Manual
By the way, building a website is no more difficult than learning how to use a basic word processing program – something you've likely already mastered. Also, you don't need to download WordPress onto your computer. Once you sign up for a webhost, which I will write about shortly, you will install WordPress with one-click within your webhosting account.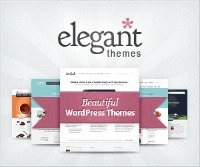 • Elegant Themes: Besides WordPress, most first-rate bloggers buy an add-on software program called a "theme." If WordPress is like the bare bones of a house, then themes are like the paint, rain gutters, window dressing, landscaping, and sprinklers that make the house look and function much better. You can find free themes online, but their functionality is usually not as great as premium ones, and most importantly, the creators of them don't have an incentive to keep them updated. When new internet browser versions are released, you may discover that your website is no longer compatible with them and you'll lose your audience. Popular companies that sell themes, on the other hand, stay on top of every internet advancement and update your theme automatically.
After much research, I decided on a theme named "Divi" from a very popular company called Elegant Themes. This theme is absolutely incredible in how easily it allows someone with no technical skills to basically design a website in any style or layout that one can imagine. Not only is their website building software more versatile than any other company I have ever come across, but they really outdo themselves by also offering two additional tools that are included in the price.
One is a social-sharing plugin named Monarch. If you don't know what a plugin is, it's something for your website sort of like what an aftermarket add-on is for your car. If you read my blog posts and see the social-sharing buttons on the left side and bottom of my posts, or the ones that slide in on the bottom right when you get toward the end of a post, that's "Monarch" in action. They also have an email signup capture plugin named "Bloom" that is equally breathtaking in its function and design.
You really have to explore their website to see what Divi, Monarch, and Bloom are all about. Simply amazing! They have great demo videos which show how easily everything works. (And I have only scratched the surface on this site in regards to what you can do with it.) When you figure that you get all three of these together in their all-in-one pricing (assuming you get their "Developer" package), it's a great value too.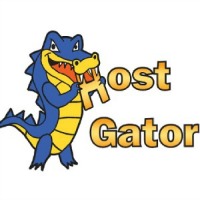 • HostGator or Bluehost: If you want to have a blog that actually earns money, for various important reasons, you need to pay for your own hosting. If you are new to this, subjects like webhosting will sound very complicated. They are not. Once you sign up, great companies like Hostgator or Bluehost will have simple to understand, step-by-step video tutorials available that will teach any tech-challenged newbie how to install a website in about 5 minutes. After extensive research, I narrowed my choices down to Hostgator or Bluehost. They both have such great reputations that I could have easily picked either one. But HostGator just happened to have the best deal going at the time that I signed up, so I picked them and have had zero regrets.
I locked in for 3 years to get the best price, but if you are not sure that your blog will stick around that long, or if you are strapped for cash, then you might want to select a shorter (albeit slightly more expensive per month) contract length. I'd honestly recommend you simply choose HostGator or Bluehost based on whichever one has the best deal currently going. (UPDATE: The HostGator links I have listed here will give you a 20% discount right now. If the discount doesn't automatically apply when you click here, then type in coupon code "SNAPPY" during check-out.)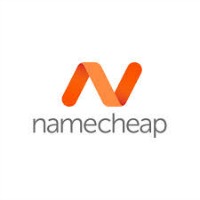 • NameCheap: If you want to have a first-rate blog or website (that can best attract traffic and earn money), then you need to have your own domain name. (A domain name is your web address such as: SelfHelpMentor.com) If you are ready to build your website immediately, you can purchase your domain name directly from your hosting company (such as Hostgator) when you sign up for your web-hosting account. But most people have an idea for a blog or website first, and they want to lock down their desired domain name while they learn about building their site.
Therefore, I usually buy all my domain names through NameCheap. In the past, I used to buy my domains from GoDaddy, but then I learned that all the in-the-know bloggers use NameCheap because they have excellent customer service and consistently rock-bottom prices. So I have been using them ever since and am slowly transferring over any previously purchased names as they expire. (By the way, if you have a domain name registered anywhere else and are facing some expensive upcoming renewal fees, NameCheap has easy-to-understand instructions on how to switch your domain name over to them. It's pretty simple stuff.)
Regardless of where you end up hosting your website, your domain name can still reside with NameCheap. If you are new to all this stuff, "hosting" and "domain name" companies, and coordinating the two may all sound complicated, but I assure you it is not. Linking the two is a cinch. HostGator has simple-to-follow instructions on how to do so in about 30 seconds.
My main recommendation is that you don't waste your money on any add-on services for your domain name except perhaps for the "privacy" option. Any other suggested things are usually not worth it, but paying for privacy is often desirable because otherwise, your registration company (whether it be NameCheap or any other) will list your personal contact information publicly online in the whois directory. Perhaps you don't care, but I pay a little extra for the privacy. NameCheap wins again in this regard as they charge far less for this privacy feature than their competitors do.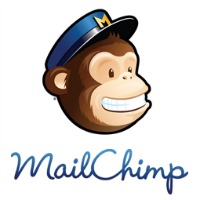 • MailChimp: This is the company that I use to collect email addresses for my free newsletter. Any blogging expert will tell you that one of the most important things you can do to cultivate a loyal, frequently-returning audience is to encourage visitors to sign up for a newsletter. This way they won't forget about you as you can notify them when you create great subsequent content. There are a few top players in this industry and they all pretty much do the same thing. However, MailChimp is my #1 recommendation because not only to they do everything you want, unlike their competitors, they allow you to join for free and never pay until your list gets larger than 2000 people. To me this makes the decision a no-brainer for any new blogger. Plus, if you change your mind later, you can always take all the accumulated e-mail addresses on your list and easily transfer them to another email list service provider.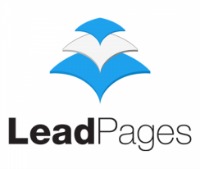 • LeadPages: This is the secret sauce that nearly all the top bloggers are using these days to create all sorts of things that help to boost conversions to their email lists, make beautifully designed sales pages for products, signup people for webinars, and countless other cool features. You really have to check them out to see everything they provide to a blogger. Unfortunately, it's a little pricey, although if you pay for 2 years upfront, it costs less than $20/month. If you have a shoe-string budget to begin with, this can probably wait. However, if you can afford it, LeadPages will allow you to hit the ground running, and since this software can boost your email subscriber rates by 30-50%-plus right from day one, you almost can't afford not to pay for this if you are creating a blog with real, long-term money-making ambitions. I absolutely love it!
Things I Use To Create My YouTube Videos: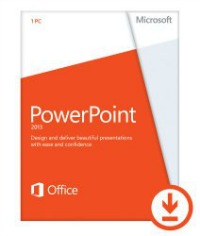 • Powerpoint 2013: If you've seen my YouTube videos, you may wonder how I make all the words move around on the screen like they do. I do it with nothing but Microsoft's Powerpoint 2013. I was tempted to try to learn the skills of advanced graphic designing pros who master very complicated graphics software such as the extremely expensive, industry-leading Adobe products. But I discovered that the little ol' workhorse, PowerPoint 2013, can do 99% of what I wanted to do. And it was much cheaper and could be mastered with far less time and effort.
• Camtasia Studio: I then needed a top-notch screen recorder and video editor. After much research, I discovered that Camtasia Studio was the perfect choice. A nice bonus is that it comes packaged with a lot of royalty-free background music which can save you a fortune in music licensing fees. It also has numerous awesome functions like green screen capabilities that I will definitely be taking advantage of in the future.
This software is a video-making beast.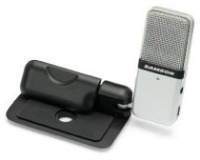 • Samson Go Mic: Then I needed a great USB microphone because built-in computer/laptop mics sound very amateurish. Since I'm a cheapskate by nature, I found the lowest priced one that still delivered high-class audio quality: the Samson Go Mic. I think it's awesome, especially for the price. I have done a lot of research on this, so if you want the next higher level of quality in the $100 plus range, get the Blue Microphones Yeti. If money is no object, get the top of the line Heil PR-40. But honestly, I don't think you need to spend more than $50 to get a great, gets-the-job-done-nicely mic. Heck, I may never upgrade.
Kitchen Gadgets & Gizmos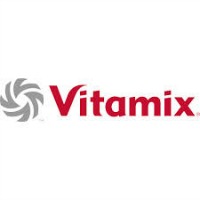 • Vitamix: I have used this workhorse blender for years, long before the smoothie craze made it so very popular. My wife, who is very skilled in the kitchen, uses it for all sorts of things, many of which she used to rely on a food processor for, but this Vitamix can do at least half of those tasks without all the time-consuming hand-cleaning that food processors require. My favorite thing about making smoothies with it is that I can stuff gobs and gobs of spinach (plus some broccoli, cauliflower, and carrots) into almost any fruit smoothie and barely taste that those vegetables are even there. Pro-tip: If you have a Costco nearby, load up on their large bags of frozen blueberries, strawberries, tropical fruit mix, peaches (when in season), and mixed vegetables. Experiment with different combinations. Or add bananas, dates, and a scoop of peanut butter in for a real treat. You can thaw the frozen fruits and veggies in a glass in the microwave before you dump them into the Vitamix, especially if you are going to make a large, multi-serving batch. This link I have provided will lead you to many officially reconditioned models on Amazon. This is the best way to get a deal on this awesome, but pricey blender.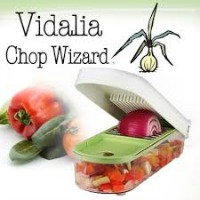 • Vidalia Chop Wizard: This smacks of some product from a bad infomercial. It's not. This thing works like a champ. It's no wonder it's the #1 bestselling product in its category at Amazon. You can slice and dice just about anything in seconds.
Healthy eating is something people often shy away from just because cooking is such a massive time suck. If that's you, maybe this Chop Wizard can help.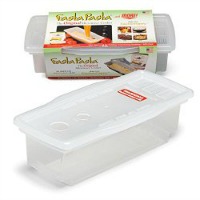 • Fasta Pasta (Microwave Pasta Cooker): I use this at least once a week. I realize that cooking pasta is pretty easy already, but I used to always avoid it simply because I didn't want to have to scrub the pasta film off the pot afterwards. With this, it's all dishwasher friendly. Plus, you never have to check the pot for over-boiling, or stir, or repeatedly taste test to see if it's ready yet. Just pick your serving size, fill this it up with pasta and water to the recommended line, and cook in the microwave for the recommended minutes. My favorites: 100% whole-wheat thin spaghetti or whole-wheat rotini. (For some reason, the whole-wheat normal thickness spaghetti just doesn't taste as good to me.) When the microwave is down to its final 6 minutes, I place a shallow bowl of frozen mixed veggies and pasta sauce (with a paper towel on top) in there next to the Fasta Pasta. When the microwave beeps, I strain the water out with the provided straining lid, dump the pasta into the veggie & sauce bowl, and dinner is served! It's probably a cumulative total of about 1 minute of actual hand touch time. Somebody give this inventor the Nobel Prize. 🙂 
Home & Office Items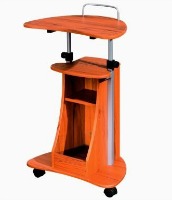 • Techni Mobili Mobile Laptop MDF Cart: If you haven't heard, sitting is the new smoking. It's shocking how dangerous and life-shortening it is to sit for extended periods of time. Unfortunately, for many of us knowledge workers, that's all we usually do all day is sit at a computer. So now I try to at least break it up by often standing while I work on my laptop. There are more expensive, higher quality standing desks out there, but for less than 75 bucks (or below $50 when it's on sale), this works great for me. It's extremely sturdy, but it also has wheels so I can easily move it around if I want to. I love it.
(If your feet get sore from all that standing, either wear tennis shoes or else stand on one of these mats that I use.)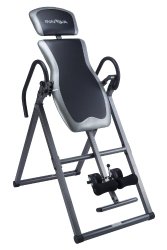 • Innova Fitness ITX9600 Heavy Duty Deluxe Inversion Therapy Table: If you are old enough, you might remember seeing Richard Gere hanging upside down from inversion boots in American Gigolo. That was probably my first exposure to this technique. With inversion tables, the process is much simpler. I have had some lower back issues over the years. Fortunately, they have mostly gone away primarily due to years of ab training. It's counterintuitive, but one of the best ways to cure many back problems is by strengthening your stomach muscles with exercises like sit-up crunches. Another factor that may have also helped is my use of an inversion table. As far as scientific evidence goes, it seems like the jury is still out as to whether or not inversion tables have any significant physiological benefits. So perhaps it's the placebo effect, but whenever I feel a pinch in my back might be creeping up, I definitely feel like hanging on this for a few minutes helps to keep it at bay. I went with this lower priced, yet still highly rated product from Innova (I actually have the earlier version) and think it's a great value for close to $100. If you are willing to spend about double that, I'd recommend the highly rated Amazon #1 bestseller in the category: the Ironman Gravity 4000 Inversion Table. And if you want to go top of the line, check out the Teeter Hang Ups EP 960 Ltd. But honestly, I think my much cheaper model gets the job done just fine.
The One Must Have Item For Every Household
• Philips HeartStart Home Defibrillator (MUST READ): As you may know if you read my "About" page, my father died of a sudden heart attack at the age of 42 so this is a subject that hits home with me.
First, let me give you a quick medical lesson that every human being should know. There is a difference between the common, colloquial usage of the term heart attack (that I and most people use in everyday language) and the strict definition of the word in medical terminology.
When we commonly say "heart attack," we are actually referring to one of two medically-defined occurrences:
1) A Heart Attack (or)
2) A Cardiac Arrest
For the rest of this explanation, I will only use the strict medical terminology.
A heart attack is most easily explained as a plumbing issue, whereas a cardiac arrest is an electrical issue.
What A Heart Attack Looks Like: A heart attack occurs when plaque builds up in your arteries and eventually becomes so clogged (or a chunk of plaque breaks off and becomes lodged) that it causes a severe reduction in the needed blood to the heart muscle. When you think of someone wincing with chest pain (or the often less-known symptoms like chest discomfort, upper body pain or discomfort in the arms, back, neck, jaw, or upper stomach, shortness of breath, nausea, lightheadedness, or cold sweats), you are thinking of a heart attack. Heart attacks are often survivable if you can get yourself to the hospital fast enough so that you do not do too much damage to your heart. Depending on the particulars of your heart attack, an emergency doctor might treat you with blood thinning drugs, a stent, or a bypass surgery.
What A Cardiac Arrest Looks Like: A cardiac arrest is when your heart stops beating or beats in a very dangerous and unstable rhythm. How this plays out is that you pass out and drop to the floor. So when you think of someone laid out and in need of immediate CPR, you are thinking of a cardiac arrest.
In the U.S., about 715,000 people have a heart attack each year. Almost 1 out of 6 will die from that heart attack.(source)
In the U.S., 424,00 people will have an out-of-hospital cardiac arrest. However, 9 out of 10 will die from that cardiac arrest!(source) So the total number of people who die from a cardiac arrest each year is much higher than the number who die from a heart attack.
Look at the following diagram to see how the deaths from sudden cardiac arrests compare to numerous other causes of death that you probably worry about much more and take many more proactive actions to prevent.
We think about certain dangers to our lives like from house fires and we wisely invest in prevention measures like quality fire alarms. We spend good money to have airbags in our cars. We may even spend extra at the grocery store to buy things like expensive blueberries to possibly ward off Alzheimers. When it comes to assaults with firearms, we may buy guns or alarm systems to ward off such armed attackers. And what wouldn't we spend on a device that might save us from breast, cervical, colorectal, or prostate cancer?
But what if there were a device that could possibly save you from a danger that was more likely to kill you than all those aforementioned dangers combined?
There is.
Which brings us to my whole-hearted recommendation (maybe heartfelt plea is a better word) for the home defibrillator (also commonly called an AED for "automated external defibrillator").
What Is A Home Defibrillator And What Does It Do?
Before I explain what a defibrillator is, let's better understand what CPR is. Although most people have heard of CPR, many people don't know how to perform it nor really understand what its role is in helping to save a person whose heart has stopped functioning. As you now know from my earlier explanation, the need for CPR comes when someone has a sudden cardiac arrest. The brain needs oxygenated blood or else you will die. It normally gets it because on most days you are breathing normally and your heart is beating which pumps the oxygenated blood to your brain. But when you are having a cardiac arrest, someone can perform CPR on you and thereby try to act as a substitute for these two vital functions of yours. They are breathing for you by blowing air into your mouth, and they are beating your heart for you by pushing on your chest so forcefully that it actually compresses your chest and squeezes your heart just like squeezing a plastic ketchup bottle.
But does CPR actually reactivate your heart to resume beating on its own?
Usually not.
In movies and TV shows, CPR often works like this: Some character falls to the ground and some other character starts applying CPR. 30 seconds later, the first character opens his eyes and all is well. In real life, this is more the exception than the rule.
Most of the time, CPR does nothing but buy you a little more time as it crudely tries to replicate how your heart functions so you can keep some vital oxygenated blood flowing to your brain until the paramedics arrive. Most of the time, your heart will only restart if it receives a special electrical shock from a defibrillator. You've probably also seen movies and TV shows where defibrillators are involved. This is a much more realistic life-reviving scenario. Usually the scene takes place in a hospital where someone flatlines and the doctor or nurse breaks out a defibrillator, yells "Clear!," and then shocks the person's heart back to life.
That's your best, and usually only, chance of preventing death during a cardiac arrest.
Keep in mind that CPR, even when administered perfectly, is unlikely to buy you very much time. Only a matter of minutes at most. It just doesn't circulate the blood nearly as well as a beating heart does. Therefore, every minute (scratch that, make that every single second) that passes before a defibrillator arrives lowers your chances of survival dramatically, even if you do CPR.
But that's not to say that CPR is not extremely important. It is. Administering CPR while awaiting the arrival of a defibrillator is dramatically better than doing nothing while you are awaiting that defibrillator. It's just that absolutely nothing else compares to the life-saving power of a readily available and quickly administered defibrillator.
Quick interesting fact: Do you know where in the world you statistically have the very best chance of surviving a cardiac arrest outside of a hospital?
Answer: A Las Vegas casino!
Do you know why?
Because they are teeming with defibrillators! (And casino staff who see cardiac arrests often enough that they know to instantly fetch one when a customer drops to the floor.)
Before I explain how a home defibrillator works, I feel compelled to add a few very important notes about CPR. As I've mentioned, CPR is a vitally important stopgap measure. It is so important that it is actually preferable to have someone perform half-assed, barely-a-clue CPR then no CPR at all. Of course, I would love it if everyone would get themselves trained in CPR. But if someone falls to floor and no one around you knows better, these instructions I will give you right now should get the job done reasonably well.
Please pay attention because there is a very real chance that you will be in a position someday during your lifetime where CPR is needed and you will be the only person either willing or able to do it. The life of your loved ones may actually depend on the information I am going to share with you right now. 
Step #1: Someone needs to call 911! (or whatever the emergency number is in your country). If you are alone, do that first before you do anything else. If there is more than one person available, then do the following while the first person is calling for help.
Step #2: Grab a defibrillator if you've got one, turn it on, and start following the audible instructions. If you still have more than one person available, then while someone is tending to the defibrillator, another person should start the next step.
Step #3: Begin CPR.
In case I lost you, just remember the order:
1) Call 911. 2) Grab the defibrillator (if you have one). 3) Start CPR.
And if there are two people, do 1 & 2 simultaneously. (Actually, even if you are by yourself, I would try to do 1 & 2 simultaneously.) And if there are three people, do 1, 2, and 3 simultaneously.
Of the three tasks, the only one that takes even the slightest bit of knowledge is CPR. Modern defibrillators are almost idiot-proof. Anyone with a 5th grade education can press a button and the machine actually starts speaking to you with absolutely simple-to-follow instructions. It instructs you on exactly how to attach it to the person's chest. It checks for a pulse. And it only gives someone a shock if they need it. It's basically foolproof.
So Here's How You Do CPR
Please keep in mind that doing this badly is still better than not doing it at all. Also realize that you don't really hurt a person by doing it wrong, you just help them less. So simply try your best.
Optimal CPR involves both breathing into the person's mouth and doing chest compressions. Here's the problem: if people are not trained in CPR, they figure that all this stuff is way too complicated, so they usually end up doing nothing. This is tragic because simply doing the chest compressions alone provides the majority of CPR's benefits. Not all, but most. Thus, the most thoughtful members of the medical community now recommend that someone who doesn't feel knowledgeable enough to perform optimal CPR, should simply do hands-only CPR. I whole-heartedly agree with this recommendation. So here's how to do hands-only CPR.
The first step will come to you totally naturally. Just take a brief moment (like a few seconds tops) to check if the person is unconscious. Give them a little tap. "Hey, are you okay?!" "Can you hear me?" Notice if they are breathing normally by simply looking at their chest and seeing if it is rising and falling naturally. If they seem unresponsive, or if the only breathing they are doing consists of weird gasps, start doing chest compressions immediately!
You may be thinking to yourself: "Shouldn't I check for a pulse? Shouldn't I take more than a couple seconds to really inspect their current condition?"
No! You need to get started right now!
Time is everything.
And remember, doing CPR on a person who doesn't really need it is not going to do them any serious damage. On the other hand, not doing CPR on a person who does need it is often the difference between life and death.
So position the person so that they are lying on their back. Get on your knees and lean over the person so you can get your back and shoulders into this. Find the center of their chest (slightly below the nipple line, but your best guess at center is good enough), and place the heel of your palm there with your other hand on top. Then start pumping up and down. Leave your elbows locked for best leverage and get your back into it. You need to push hard enough to compress the chest by a full 2 inches. It will be quite strenuous, like a hard, sweaty workout. Even experts occasionally break a rib of the person when doing this, so don't be too soft. Remember you are trying to squeeze the heart like you squeeze a plastic ketchup bottle so it requires some force. Let the chest rise back up in place between each pump, but you don't need to release your hands from contact with the chest.
Perform 100 pumps per minute. This will probably feel faster than you think you should be going. A popular song beat that people use to remember this fast pace is "Staying Alive" by the Bee Gees. Or if you have a sick sense of humor, "Another One Bites The Dust" by Queen also works.
When should you stop doing these compressions?
Only when the paramedics take over for you or when the defibrillator gets attached. Not a second earlier. If you see the paramedic truck pulling up, keep pumping. Don't stop until someone else needs your hands out of the way. Every compression in this interim time is vitally important to the person's chances of survival.
If you want to see a live example of exactly what hands-only CPR looks like, watch this short video from the American Red Cross:
You may be thinking: "What about breathing for the person?"
The blood contained in the person's body already has some oxygen in it so that's why hands-only CPR does a pretty good job. But admittedly, it does not do the very best job. For the blood to be saturated with more ideal oxygen levels, the best practice is to also blow air into the person's mouth. If you want to be prepared to really do this right, then take a CPR training course or at least try to teach yourself online by watching a more thorough video instruction like this one:
https://www.youtube.com/watch?v=9ttt4mO3cYk?rel=0
But if you are curious to know right now what optimal CPR involves, here's the synopsis:
It's best remembered by the acronym: ABC. A is for airway. B is for breathing. C is for circulation (or compressions). You check to make sure that the person's airway is clear. You tilt their head back slightly and look into their mouth for anything stuck in their throat. Then you breathe for them by blowing into their mouth as you pinch their nose. If their chest rises as you blow in, you know that their airway is clear. You then perform CPR in this pattern: 2 breaths, 30 compressions, 2 breaths, 30 compressions, repeat, repeat, repeat.
This stuff is not rocket science. So if you are willingly up to the task, even though I have previously recommended that you do the hands-only method, if your loved one falls to the floor and is unresponsive and you really want to do your best, you can simply look into their mouth and if you don't see anything, simply pinch their nose and blow into their mouth. If their chest rises and falls, then go ahead and do 2 breaths before every 30 compressions. Or if there are two people, have one do the 2 breaths for every 30 compressions while the other one never stops the chest pumping.
Again though, I worry that the real world consequences of someone untrained trying to remember to do everything will result in feeling overwhelmed in the heat of the battle and thus doing nothing.
So when in doubt, just start pumping that chest.
Now that I've explained the role of CPR, let's get back to discussing the urgently important need for every home to possess a home defibrillator (also known as an AED).
According to a study by the American Heart Association, for every minute defibrillation is delayed, the victim's chance of survival decreases by 7 to 10%. If 10 minutes pass for a sudden cardiac arrest victim, even if CPR has been administered, the chances of survival are effectively zero.
You may be thinking that you live somewhere where paramedics usually arrive fairly quickly.
But I've got a question for you:
Are you willing to bet your life on it?
And what about your loved ones' lives? Are you willing to bet their lives too?
And even if you could somehow guarantee that emergency responders could get there in 5 minutes, if you could get that home defibrillator started in 3 minutes instead, that might very well be the difference between life and death. Remember that each minute awaiting a defibrillator is decreasing your survival chances by a whopping 7 to 10%.
So who is really at risk for sudden cardiac arrest?
Here's a frightening true fact about sudden cardiac arrest victims. For most of them, their very first symptom that they had any heart issues whatsoever is when they die from from a sudden cardiac arrest.
For most victims, there is no heads-up. (My father never saw it coming. And he is in the majority.)
What puts you at risk for sudden cardiac arrest?
You may remember me explaining that heart attacks were a plumbing issue, while cardiac arrests were an electrical issue. While their processes are very different, surprisingly, their causal factors are mostly the same.
Bad diet. Obesity. Smoking. Not exercising. High blood pressure. High cholesterol. Diabetes. Drinking too much. A family history of heart disease. These are all important risk factors for both heart attacks and sudden cardiac arrests. However, sudden cardiac arrests also have a few unique risk factors such as certain genetic heart defects and heart rhythm disorders. Often when you hear about a young athlete dying on a sports field, this is from a sudden cardiac arrest related to a heart defect. A readily available defibrillator could have often saved these kids. That's why every school (and, of course, all businesses) should have one too.
Let me be quite blunt here. I cannot understand how any thinking person with a household family member over the age of 40 can possibly justify driving a $20,000 car instead of driving a $19,000 car and owning a home defibrillator. Probably the only reason that its necessity is not more well known in society is that no doctor, paramedic, or coroner ever has the gall to tell a grieving family: "I'm very sorry for your loss. You really should have had a defibrillator in your home."
Please do not put off for one more day living in a home without one of these life-savers handy. The Phillips model I recommend, and which I have owned since I was in my mid-thirties, is the industry standard, state of the art, #1 seller on Amazon for a reason. Everyone recommends it.
Listen, you have fire alarms in your home because you know that life is priceless. You have airbags in your car because you know that life is priceless. You buy health insurance because you know that life is priceless. If one of your loved ones collapses at home and dies, and their precious life could have been saved had you simply bought one of these darn things, you will never forgive yourself.
Click here to take a closer look at it.